Podcast: Play in new window | Download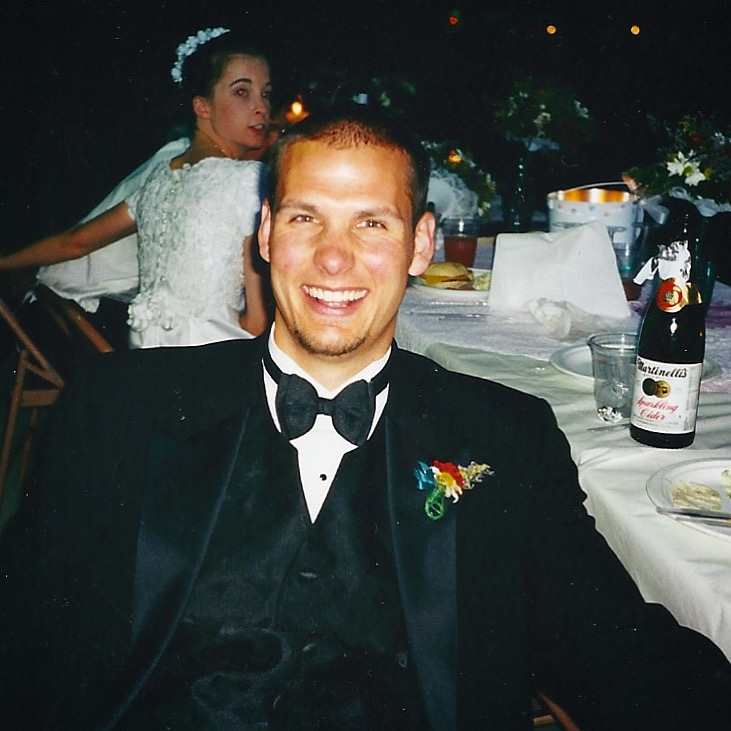 For the past five years, May 23rd has been a bittersweet day.
It marks the day one of my closest friends and companions unexpectedly passed away at the age of 37. While not biologically related, Kevin Lines was my brother from the moment we met. As the years went on, our relationship weathered the storms of distance and grew into a steady and welcoming place for both of us – a beautiful tree in the garden of our lives.
So, May 23rd brings with it the tears brought on by the rather severe kind of distance we experience when a loved one "passes on." That extreme distance where you cannot give that missing part of you a physical hug or call them on the phone or go see them. The distance that is naturally confusing and bewildering. There is a kind of lostness.
And yet.
And yet, I can say with full experiential confidence that Kev is not gone. He didn't vanish or disappear. I have felt his presence. I have welcomed him in my dreams and in that awake-not-awake state of being that comes in the early morning hours. I have heard his voice. I have been taught and exhorted and encouraged by his still-present wisdom.
He isn't gone.
No, his body I cannot find to embrace. That remains a bitter pill – that there is no place where his physical presence can be found. To this day, when I visit SoCal, I still find myself spending time going to the places he lived, the places we hung out, our favorite places to eat, the boardwalk where we had so many significant conversations. I guess I just have to make sure he's not there.
But even though he is not "there," he is not gone.
This past February when I was in California, I was riding my bike along our favorite boardwalk and felt him next to me. I could see and feel his smile. I could hear his laughter.
And then he told me, "Let go, Dave. Life is better than you ever imagined. Just let go."
Let go of trying to please others. Let go of feelings of insecurity. Let go of the fear of failure. Let go of the fear of looking like a fool.
Let go of holding on.
He is still with us. Still teaching.
I can't explain it. I can't "prove" it. I can't give you logical reasons.
But I know it to be so.
I might be a little crazy for some. I'm okay with that. From my earliest moments I can remember, life has been charged and enlivened and illuminated by the unseen. It's just the way it is…for me.
Not only did Kev make deep impressions in the lives of the people lucky enough to know him. Not only does he live on through those lives that he touched.
He lives on.
That, to me, is where the sweetness in all this resides.
And I will continue to live on and let go.
Not to imresss or please Kev, but because it is the wisdom of those who see life for what it really is and want the rest of us to engage with it as deeply and freely and extravagantly and compassionately and graciously and daringly and lovingly as we can.
Kev and I did a lot of dreaming and fully believed that we were destined to do something great together in our lifetime. And while this is not what we had imagined when we were in our 20s and 30s, I think we're still going to make a run for it.
Why not?
Time to let go a little more.
Life is just beginning.
Or, as Hafiz says much better than I can:
"If this world
Was not held in God's bucket
How could an ocean stand upside down
On its head and never lose a drop?
If your life was not contained in God's cup
How could you be so brave and laugh,
Dance in the face of death?
Hafiz,
There's a private chamber in the soul
That knows a great secret
Of which no tongue can speak.
Your existence my dear, O love my dear,
Has been sealed and marked
"Too sacred," "too sacred," by the Beloved —
To ever end!
Indeed God
Has written a thousand promises
All over your heart
That say,
Life, life, life,
Is far too sacred to
Ever end."
Peace.